SafePharm Laboratories Limited (Rat)
Safety Testing with a Competitive Edge
Before new chemical products can be sold in many countries, they must pass stringent tests to ensure safety for human beings and the environment. SafePharm Laboratories, an independent contract research organization with clients located throughout the world, tests the safety of new and existing chemical products for the industrial, chemical, agrochemical, and pharmaceutical industries.
Eric Wood manages the testing of the effects of products upon mammalian reproductive systems. Governmental regulations in many countries require semen analysis of certain species, such as the rat, after exposure to test substances. Since 2000, Mr. Wood's lab has used the Hamilton Thorne TOX IVOS, which fulfills the criteria required by regulatory authorities for sperm motility analysis.
Leading Mr. Wood's list of advantages of the TOX IVOS is the ability to store images on disk. This feature is important because his lab must archive all data generated from each study for at least five years. Reanalysis of data, if and when necessary, can be done with convenience.
Also important to SafePharm is Rat Metrix, the software program that performs morphometric analysis. "Rather than relying on subjective assessment," Mr. Wood states, "we get dependable, objective morphology results. And with IDENT® staining, we can do the morphology analysis and the enumeration of homogenization spermatids. All of these analyses are performed using the same analyzer, which makes the Hamilton Thorne system a very flexible machine to use. And if we are required to test other species, we can just order the appropriate software and still use the same analyzer."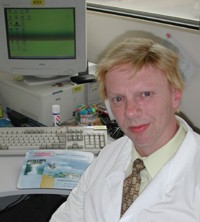 "Without the TOX IVOS and the ability to perform reproduction studies, we would be at a commercial disadvantage. The need for this type of testing is becoming more common, especially with the increasing concern for environmental effects upon human male fertility."

Eric Wood, Cbiol, MIBiol
Head of Reproductive Toxicology